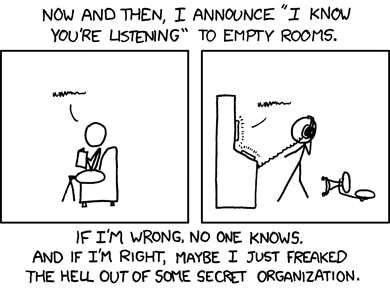 Professor Neil M. Richards from Washington University in Saint Louis – School of Law has a paper on The Dangers of Surveillance in the next Harvard Law Review. The abstract's call-to-action:
I propose a set of four principles that should guide the future development of surveillance law, allowing for a more appropriate balance between the costs and benefits of government surveillance.

First, we must recognize that surveillance transcends the public-private divide. Even if we are ultimately more concerned with government surveillance, any solution must grapple with the complex relationships between government and corporate watchers.

Second, we must recognize that secret surveillance is illegitimate, and prohibit the creation of any domestic surveillance programs whose existence is secret.

Third, we should recognize that total surveillance is illegitimate and reject the idea that it is acceptable for the government to record all Internet activity without authorization.

Fourth, we must recognize that surveillance is harmful. Surveillance menaces intellectual privacy and increases the risk of blackmail, coercion, and discrimination; accordingly, we must recognize surveillance as a harm in constitutional standing doctrine.

I love this. This first-principles approach is very useful.
Richards models surveillance as perversion of the relationship between a person and large institutions. Big corporations and big governments are quickly being joined by others. The Internet of Everything gathers scattered data about you as everyday objects observe you wherever you are, leaving correlation and interpretation to others. You are becoming a surveilleur, with your wearables and mobiles and social media, capturing formerly private spaces.
Surveillance theory should expand to recognize that data collection is no longer exclusively, or even mostly, at the behest of behemoths.
Last, privacy as used by Richards is limited. While the law, employers, internet companies and law enforcement may not think so, people believe they have ownership rights in data by and about them. So principles about surveillance could approach its problems through a lens of:
Who has equity in personal data?
What are the personal property or tenancy rights of people? and
How can we extend existing search and seizure protections from the person and home to the places our virtual personhood and virtual homes occupy in cyberspace. Some call them personal clouds.
Richards, Neil M., The Dangers of Surveillance (March 25, 2013). Harvard Law Review, 2013. Available at SSRN: http://ssrn.com/abstract=2239412
Related articles