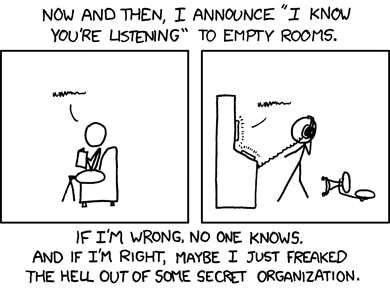 Professor Neil M. Richards from Washington University in Saint Louis – School of Law has a paper on The Dangers of Surveillance in the next Harvard Law Review. The abstract's call-to-action:
I propose a set of four principles that should guide the future development of surveillance law, allowing for a more appropriate balance between the costs and benefits of government surveillance.

First, we must recognize that surveillance transcends the public-private divide. Even if we are ultimately more concerned with government surveillance, any solution must grapple with the complex relationships between government and corporate watchers.

Second, we must recognize that secret surveillance is illegitimate, and prohibit the creation of any domestic surveillance programs whose existence is secret.

Third, we should recognize that total surveillance is illegitimate and reject the idea that it is acceptable for the government to record all Internet activity without authorization.

Fourth, we must recognize that surveillance is harmful. Surveillance menaces intellectual privacy and increases the risk of blackmail, coercion, and discrimination; accordingly, we must recognize surveillance as a harm in constitutional standing doctrine.